February 26th, 2021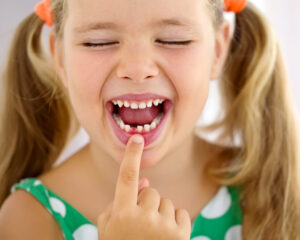 Happy Tooth Fairy Day from Petty & Bielik Orthodontics! At our practice, we love the Tooth Fairy! While she cares for baby teeth, we care for baby and adult teeth. When the Tooth Fairy first comes into your child's life, it's the perfect signal to bring your child in for an orthodontic appointment. Read on for more about two-phase treatment and why it could be a great option this Tooth Fairy Day!
All things baby teeth
Children begin to lose their 20 baby teeth starting around the age of six. During this time, 28 adult teeth will gradually take their place over the next six or so years. As these larger and more numerous adult teeth erupt, orthodontic issues, like crowding, a poor bite, or misalignment, can begin to develop.
While many people may think that you need to wait for adult teeth before beginning orthodontics, this is not the case. Although teen and adult braces are very effective, orthodontists can intervene far earlier with something called two-phase treatment.
What is two-phase treatment?
There is no cookie-cutter age for orthodontic care. However, we recommend that kids visit around the time that permanent teeth first begin to come in—typically this is at seven years old. At this point, our orthodontists can detect issues early, like crowding and misalignment, and create a two-phase treatment plan if it is beneficial.
Two-phase treatment can minimize the likelihood that your child will require surgery or extractions later on. By working with your child's natural facial growth, we can often treat problems early—before they become more serious. For instance, two-phase treatment allows us to address issues like crowding. If we notice the signs of a narrow dental arch, we might use appliances, like a palate expander. This device guides a child's growth to create space for teeth as they erupt. A wider arch then becomes the foundation for a healthy smile transformation during the second phase of treatment.
Book your child's first appointment today!
Our team (and the Tooth Fairy) love helping children enjoy their healthiest baby and adult teeth! If your child has begun getting visits from the Tooth Fairy, now is a good time to book an appointment with our team. We can't wait to help your child enjoy their healthiest, happiest smile!