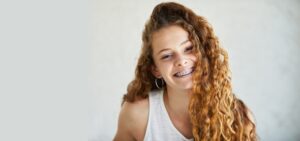 With April comes Stress Awareness Month, the perfect time to take a step back and evaluate your smile habits. Though they may seem unrelated, your oral health and stress are connected. Ever since the COVID-19 pandemic, dentists across the country have witnessed a spike in stress-related dental problems. In honor of Stress Awareness Month, read on to discover the ways that your stress could be impacting your smile journey.
Stress and orthodontic treatment
Directly or indirectly, stress can lead to a variety of dental or orthodontic issues. Clenching, grinding, biting your nails, eating unhealthy foods, or neglecting good oral hygiene habits can all be caused by stress. In the past year, up to 70% of dentists reported seeing more issues like bruxism, chipped teeth, and TMJ dysfunction in the chair.
For those undergoing orthodontic treatment, these issues can be even worse. Not only can some bad habits lead to decay, but they can also cause damage to your orthodontic appliances. This means possible discomfort, pain, stress, or even emergency orthodontic visits to repair appliances.
If you clench your teeth while wearing aligners, you can warp your trays. And if you choose to snack on foods like candy or popcorn, you can break your brackets or bend a wire. Even without stress, it can be challenging to keep teeth healthy during treatment since braces create hard-to-reach areas. So, if stress is causing you to skip brushing or flossing, you can easily end up with cavities, gum disease, and a slowed down smile transformation.
Enjoy stress-free smiles
Focus on healthy smile habits no matter what! Practicing excellent oral hygiene and properly caring for aligners or braces can deliver both a stress-free journey and a beautiful, healthy result.
After eating or drinking, brush and floss—even if you're enjoying a late-night snack; wear a mouthguard during sports; and book those biannual appointments with a dentist. Finally, follow all the instructions from our orthodontists. If you stop wearing your retainer, remove your aligners too often, or eat foods that aren't braces friendly, you can end up in a stressful scenario—with a less than ideal result.
Come see us today
All month long, de-stress and embrace healthy oral hygiene habits. Have any questions about how to best care for your smile? Call our team and book a stress-free appointment with our experts.
Leave a Reply