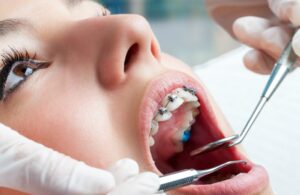 Today is Dentist's Day, a time to celebrate smiles and dental health! But, should you thank your orthodontist on this holiday? Is your orthodontist even considered a dentist? Find out everything you need to know in this blog!
What is an orthodontist?
An orthodontist is a dental specialist. However, the type of work that they engage in is very different than that of a general dentist. General dentists are primary dental providers. They promote dental hygiene through regular exams and refer patients to specialists when needed. They regularly diagnose and treat oral conditions, like decay or gum disease. In the office, they provide a wide range of services, such as regular cleanings, teeth whitening, tooth extractions, and filling cavities.
In comparison, orthodontists diagnose, prevent, and treat issues with facial structure, tooth and jaw alignment, bites, and aesthetics. Using specialized appliances, including braces, clear aligners, and palatal expanders, orthodontists are able to influence facial growth and correct problems to improve a patient's health, comfort, and confidence.
Education
Both dentists and orthodontists have a dental degree—either a DDS or DMD. However, orthodontists are required to obtain additional education and training before going into practice. They must complete an orthodontic residency program for an additional two to three years. During this time, they receive specialized training and education that helps them deliver healthy smiles.
Celebrating Dentist's Day
This Dentist's Day, celebrate all dental professionals—from your general dentist to your orthodontist! Both are needed for a healthy, happy smile. While orthodontists focus on bringing the face, teeth, mouth, lips, and jaw into harmony, oral health and orthodontic treatment are directly connected. Aligned teeth are easier to clean and less likely to develop gum disease or cavities. When you have misaligned teeth, some areas in your mouth may be difficult to reach, making them prone to poor oral hygiene.
And, during orthodontic treatment, maintaining excellent oral hygiene is crucial—especially since food can easily get stuck between brackets or in your aligners. Sticking to a healthy routine, including booking regular appointments with your general dentist, will promote the healthiest results.
We hope you have a happy and smile-friendly Dentist's Day! Have any questions for our Petty & Bielik Orthodontics team? Call us for more information or to book an appointment.
Leave a Reply