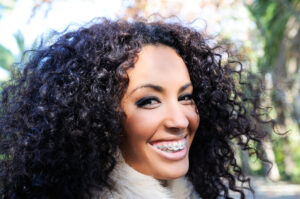 Though some people may think that braces are only for teens and children, this isn't true! According to the American Association of Orthodontists, one in four orthodontic patients today is an adult. With spring on the horizon, it's time to transform your health and smile. Read more to learn about whether orthodontic treatment as an adult is right for you!
Orthodontic technology is better than ever
Many adults had orthodontic treatment as a child and either did not complete it or did not wear a retainer. In these cases, their teeth likely regressed. If your first experience with orthodontics was uncomfortable or unpleasant, you may be unsure whether treatment as an adult is the right choice.
These days, orthodontic technology is better than ever! Newer advancements, like self-ligating Damon Braces as well as clear aligners, allow adults to have incredible smile transformation experiences. Treatment today is more discreet, efficient, and comfortable than ever before. As more adults discover how advanced orthodontic treatment is, we know that even more will want to transform their smiles.
Getting treatment as an adult
If you are insecure about your smile, there is no need to deal with a bad bite, gaps, misalignment, or spacing. Using appliances, like braces and aligners, we can promote excellent dental health and create a beautiful, lifelong smile.
At our practice, we use advanced technologies, like Damon Braces and Invisalign®. Self-ligating braces, like Damon Braces, improve upon traditional metal braces. Using a slide mechanism instead of elastic ties to connect arch wires to brackets, Damon Braces are more hygienic and efficient. These braces do more than just align your teeth and bite. Among other aesthetic improvements, they also widen the dental arch, provide facial support, and correct gummy smiles. Plus, for those adults who want a discreet transformation, these braces come in clear as well.
Depending on your goals, we may recommend clear aligners, like Invisalign. These are fully removable and even less noticeable than clear braces. No matter what treatment our experts recommend, we will always deliver your best smile and health!
Book an appointment today
As part of our smile family, you can feel confident in your orthodontic care. Our experts are ready to help you achieve the dream smile you deserve. If you have questions about receiving treatment as an adult or if you want to book an appointment, call our Petty & Bielik Orthodontics team today.
Leave a Reply